DN Unlimited: Hackathon
September 17, 2020

-

September 26, 2020

Free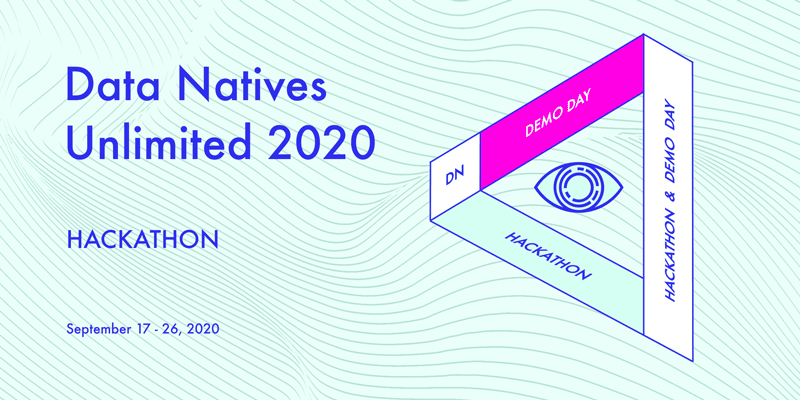 Do you want to be a changemaker, work in diverse teams, receive free mentorship, and implement smart ideas?Embark on the DN Unlimited Hackathon journey and use your skills to seek solutions for:
Building sustainable and green businesses
Facilitating social impact
Healthcare and data accessibility for all
Providing cybersecurity and data protection
Since March 2020, Data Natives has (co-)organised and supported four online hackathons against Covid-19 with a total of over 24.000 participants. For our DN Unlimited Hackathon, we are calling data scientists, developers, project managers, designers, healthcare experts and everyone else to join us!Hackathon Timeline:
SEPTEMBER 17th: Hackathon Info Session
SEPTEMBER 17th -24th: Team formation period & HACKING
SEPTEMBER 25th: Mentorship sessions and Workshops
SEPTEMBER 26th: Project Submission Deadline (12AM), Demo Day (Project pitches), Hackathon Party
The journey continues… The Hackathon is only a part of the DN Unlimited adventure – for the full experience join our DN Unlimited Open Forums and our DN Conference:
SEPTEMBER – OCTOBER: DN Unlimited Open Forums
NOVEMBER 18th- 20th: DN Unlimited Conference
Extend your network and become part of our worldwide community!
Sept 23
6 PM CET: Official kick-off (Live Stream)
Join us for welcoming notes by mentors and judges. Watch elevator pitches by our hackers who are still looking for teams or team members. Registration closes tonight at 11:59 PM CET! 
We already have more than 500 talented participants from more than 15 different nationalities.
Sept 24
8 AM CET: Morning check in
6 PM CET: EUvsVirus – Success story (live)
Data Natives are (Co-)Organisators of EUvsVirus. Meet the EUvsVirus teams and hear about their success stories. We're going to stream this talk live on our website.

#EUvsVirus hackathon identifies 117 solutions
Sept 25
8 AM CET: Morning check-in
1 PM CET: Pitching workshop (live)
When you pitch you need to be memorable, concise and cause your audience to take action. We are LIVE with a pitching workshop!
5 PM CET: Design Thinking workshop (live)
Sept 26
12 AM CET: #HackCorona success story (live)
1:30 PM CET: Demo Day (live)
We're streaming all video pitches and Q&As with the judges live on our website. Stay tuned!
#HackCorona gathered over 1700 people